Birthday elephant
Written by: adelina
in
BIRTHDAY
Handmade card with an elephant and a balloon with a 3 inside, for a 3 year old birthday, hand-colored with alcohol markers.
---
A6 card B6 envelope, white color
Cutting die La coppia creativa: "Moon and stars"
Cutting die La coppia creativa: "Sewn rectangles"
Clear stamps Avery elle: "Ellie"
Cutting die Avery elle: "Ellie"
Clear stamps Concord and 9th: "Happy Plaids"
Alcohol markers
Sizzix Foldaway
Darice Embossing folder: "Stars"
Stamping Buddy Pro - Nellie's Choice
3D foam tape
Memento black ink, lady bug (red) ink
Distress Oxide - "Tumbled glass"
Ink applicator
Vinavil glue
Preview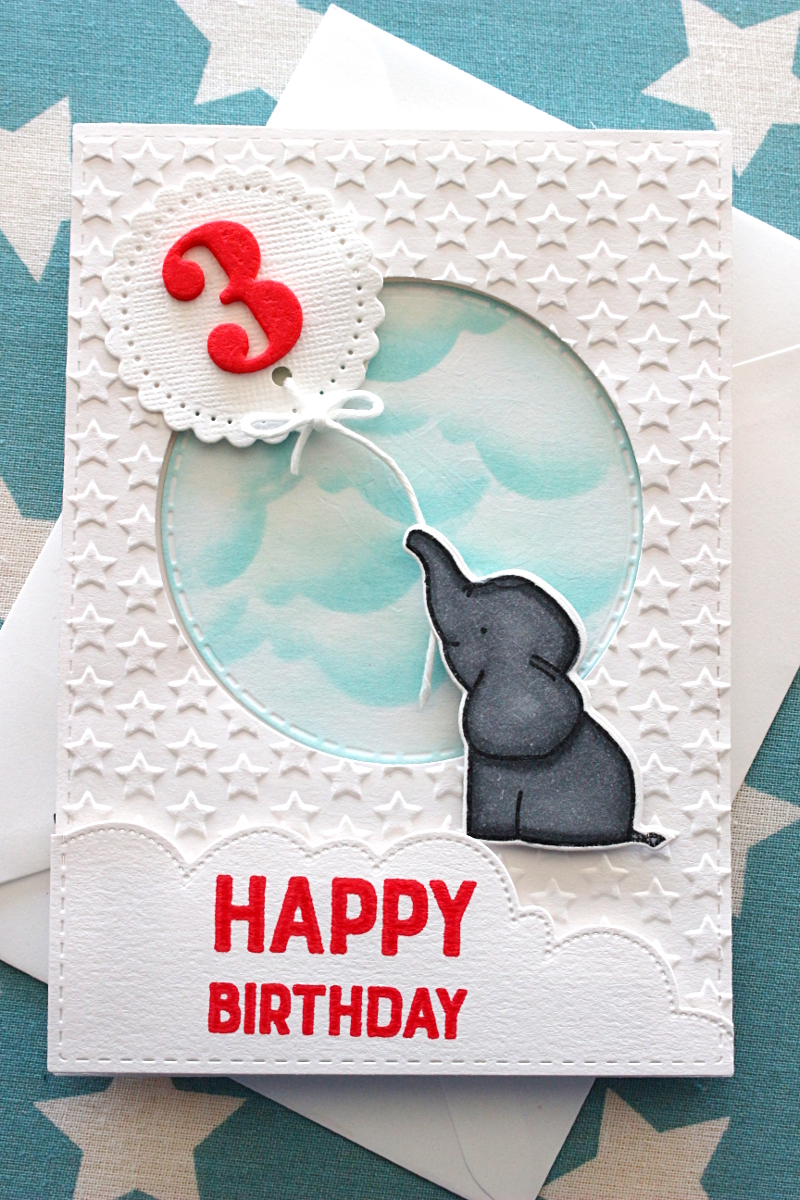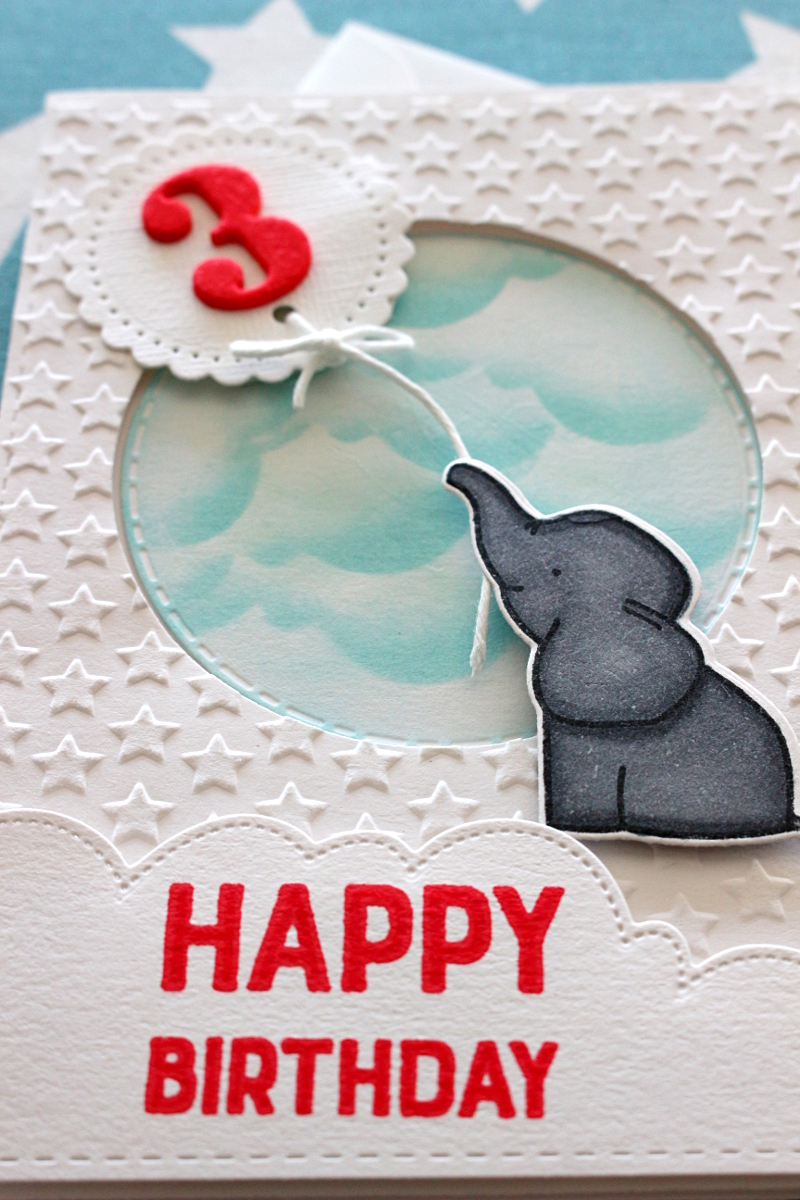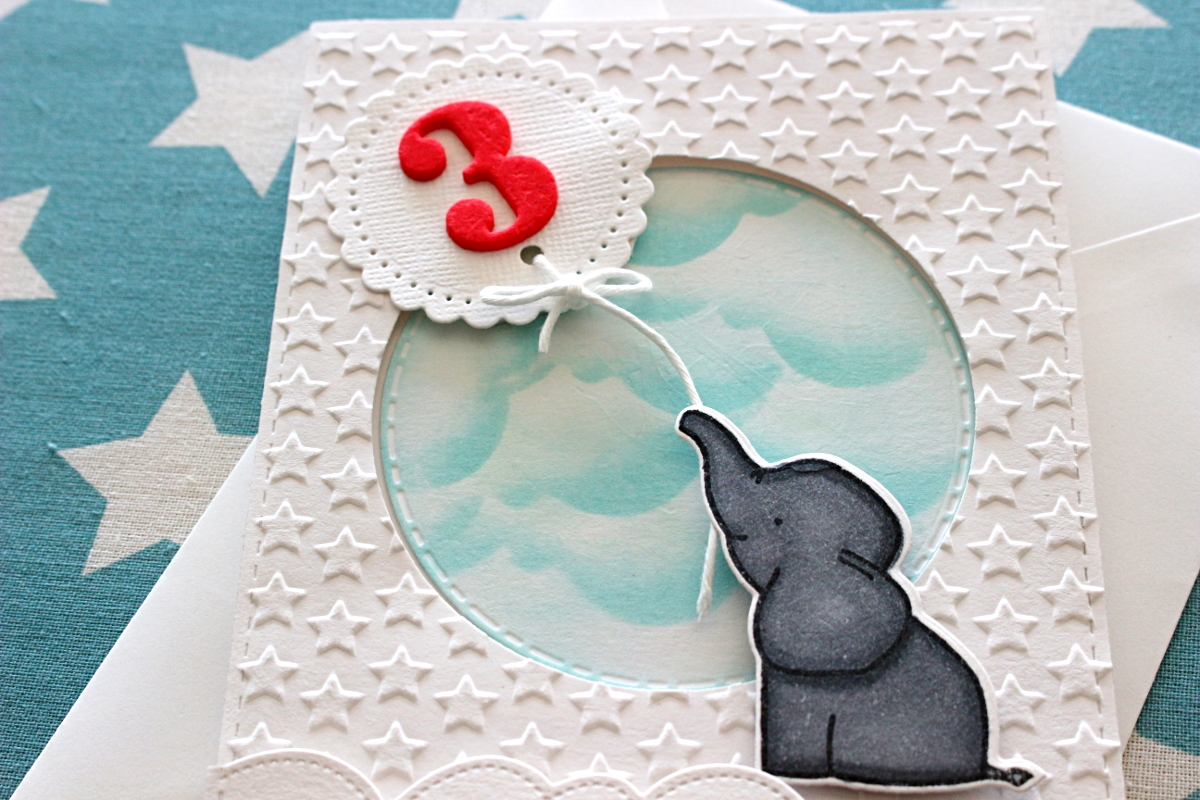 How To
First I cut the shape with the cutting die "Sewn rectangles" using the largest one available. Then I cut the circle in the middle, on which, through the use of the ink applicator and the Tumbled glass ink and a shape cut on a paper with the cloud from the die "Moon and stars", I created the sky with the clouds.
Subsequently, I used the embossing folder "Stars" applying it on the rectangular shape (without the one with the colored circle). I cut also a cloud where I stamped the "Happy Birthday" from the Hero arts stamp set.
In the meantime, I printed the elephant using the clear stamps "Ellie". Once printed, I started coloring it with alcohol markers, trying to obtain shaded effects.
Once I colored, I cut it with the matching cutting die.
The balloon with the number "3" is taken from a set of dies I found on ebay, and then I used a white string to create the string of the balloon.
In the final stage it remains to glue the background with the clouds while the rectangular shape with the stars is in pop-up together with the cloud shape with the "happy birthday" greeting. The elephant is also in pop-up while the balloon with the "3" is simply glued.
I completed the postcard with a round stamp on the back saying "Handmade with ".