Christmas time again
Written by: adelina
in
CHRISTMAS
Handmade card with a penguin, a little dog convinced of being a reindeer and a sweet snowman, hand-colored with alcohol markers
---
A6 card B6 envelope, white color
Cutting die La coppia creativa: "Sewn rectangles"
Cutting die La coppia creativa: "Small sewn hills"
Clear stamps Neat and Tangled: "Get Yeti"
Cutting die Neat and Tangled: "Get Yeti"
Cutting die Mama elephant: "Bold Banner"
Sizzix die 663670, Linda Kanase
See D's rubber stamps: Animal Christmas
Embossing Powder Tsukineko, white
Heat gun, Artemio
Alcohol markers
Embossing folder Darice: "Snowflakes"
Sizzix Foldaway
Ranger embossing ink pad, clear
Stamping Buddy Pro - Nellie's Choice
3D foam tape
Vinavil glue
Preview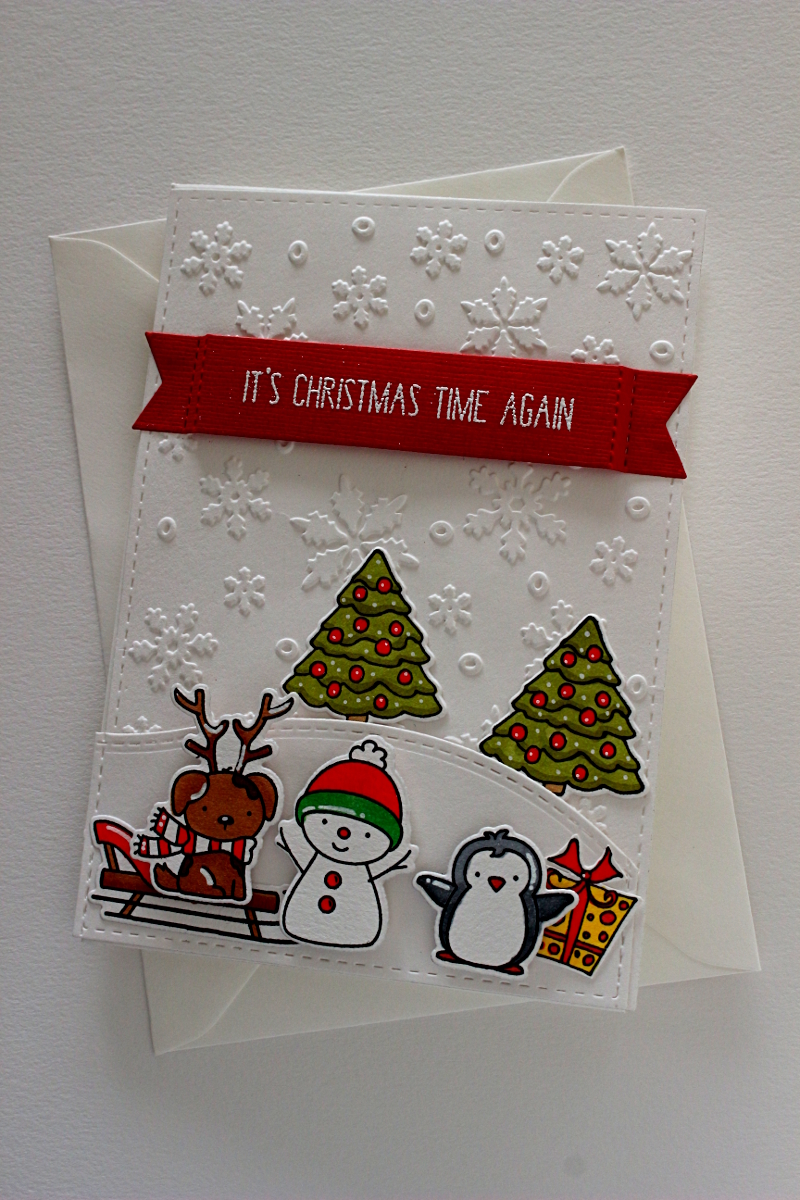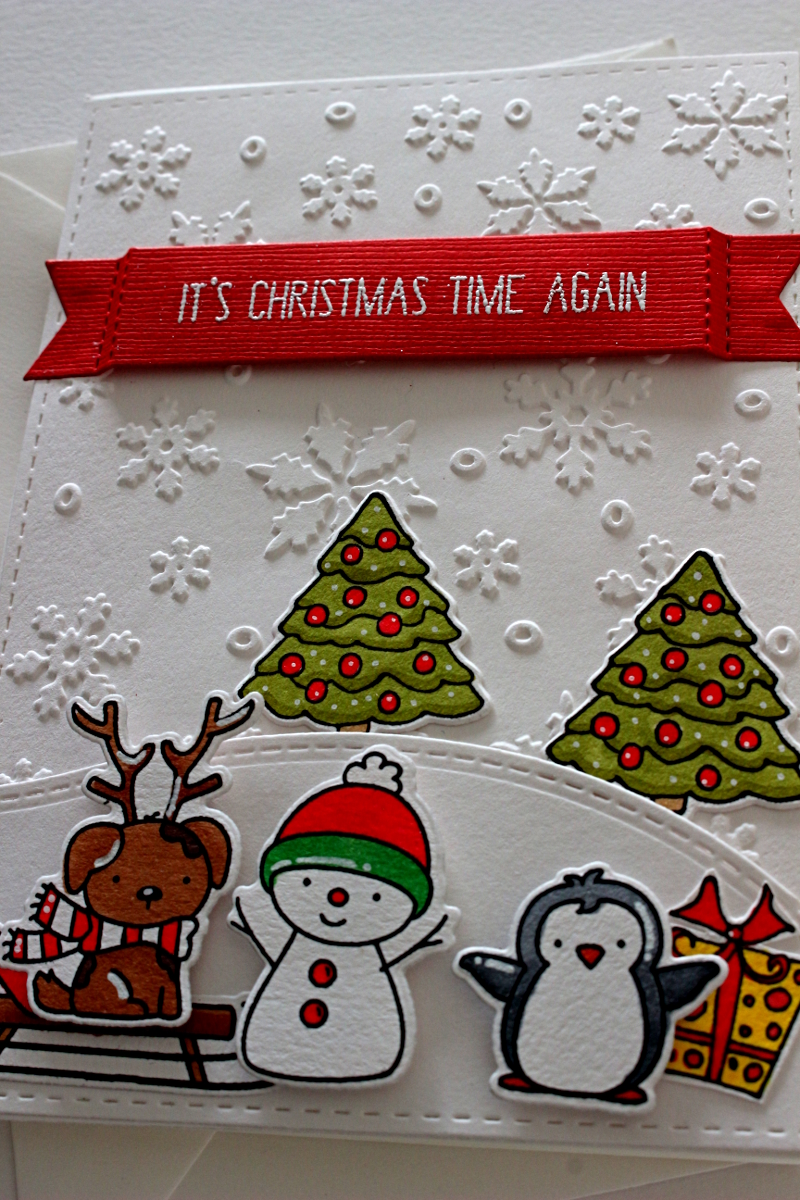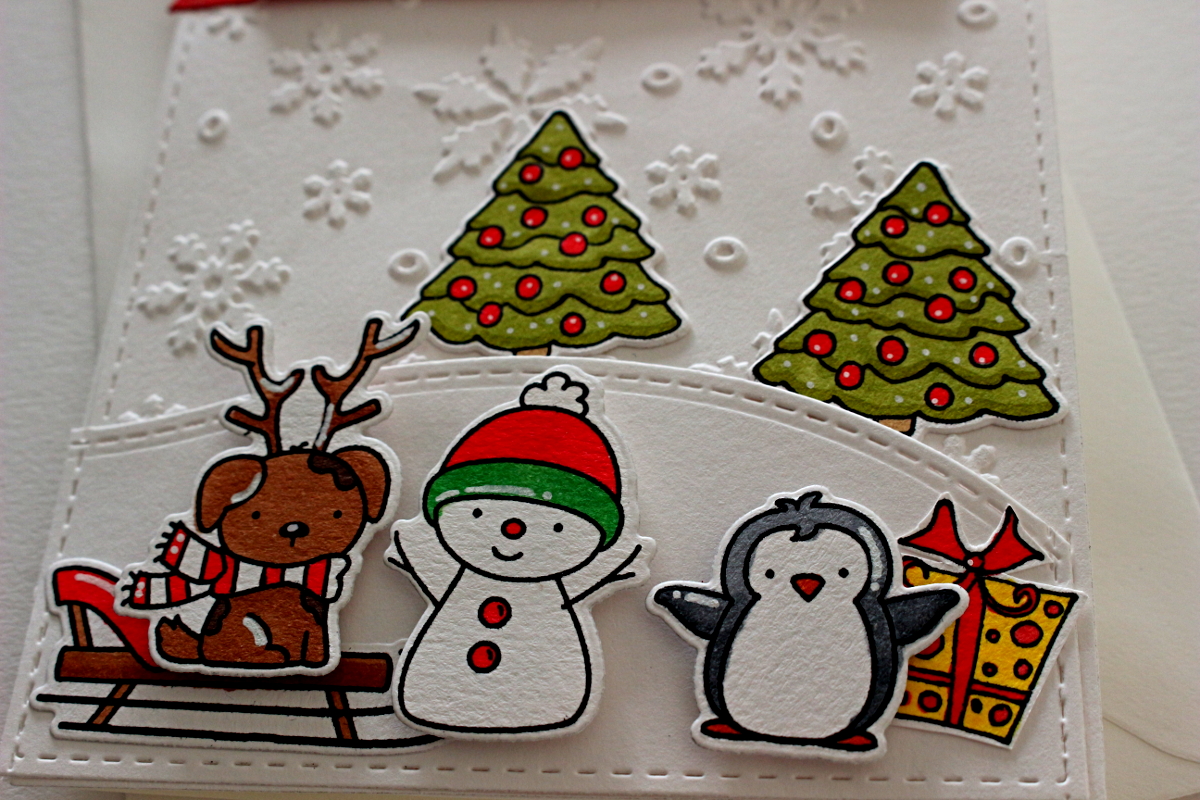 How To
First I cut the shape with the cutting die "Sewn rectangles" using the largest one available.
Subsequently, I applied the embossing folder "Snowflakes" on the rectangular shape. Then, using the hill die I cut it and then, to recreate the sewn on it, I applied over it the rectangular shape used before.
In the meantime, I printed the penguin, the little dog convinced of being a reindeer, the sweet snowman, the sleigh from the stamp "Get Yeti", the Christmas trees on the background from the Sizzix stamp, and the gift from the "Animal Christmas" rubber stamp. Once printed, I started coloring them with alcohol markers, trying to obtain shaded effects.
Once the molds were colored, I cut them with the matching cutting dies.
Then, I printed the wish "It's Christmas time again" using the clear embossing ink pad, and then the white embossing powder over it with the heat gun to emboss.
In the final stage it remains to glue the background with the snowflakes, the hill and the Christmas trees on the background, and put the colorful characters using the 3D foam tape. The sleigh and the gift are glued with vinavil instead.
I completed the postcard with a round stamp on the back saying "Handmade with ".
This card is entered in: