Santa's sleigh
Written by: adelina
in
CHRISTMAS
Handmade card with Santa Claus on sleigh with reindeer flying over a Christmas village, hand-colored with alcohol markers, and with a background realized using distress oxide inks.
---
A6 card B6 envelope, white color
Cutting die La coppia creativa: "Scalloped rectangles"
Cutting die La coppia creativa: "Sewn rectangles"
Cutting die Mama elephant: "Bold Banner"
Clear stamps Mama elephant: "Santa's sleigh"
Cutting die Mama elephant: "Santa's sleigh"
Alcohol markers
Sizzix Foldaway
Sizzix 662579 "Landscape Border"
Stamping Buddy Pro - Nellie's Choice
3D foam tape
Memento black ink
Memento white ink
Distress Oxide - "Stormy sky"
Christmas paperpad
Ink applicator
Vinavil glue
White string
Acrylic stamp block
Tonic Studios-Nuvo Crystal drops, white
Preview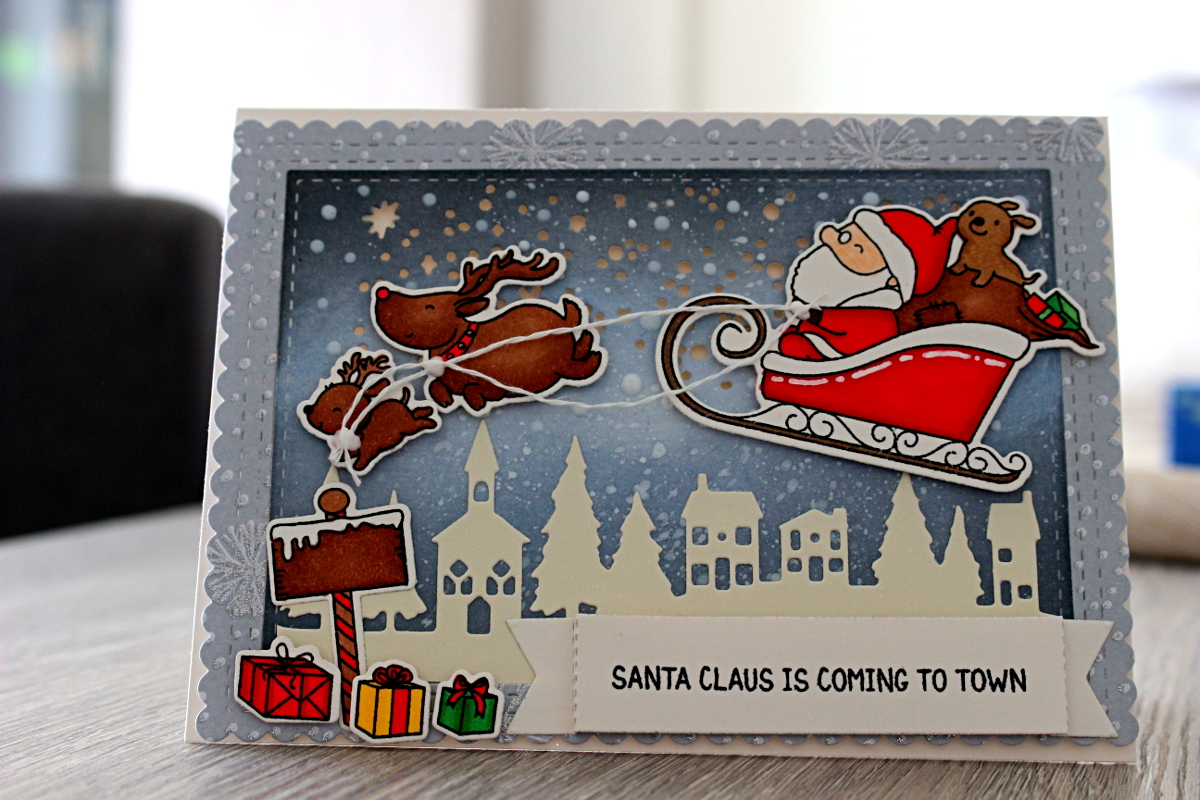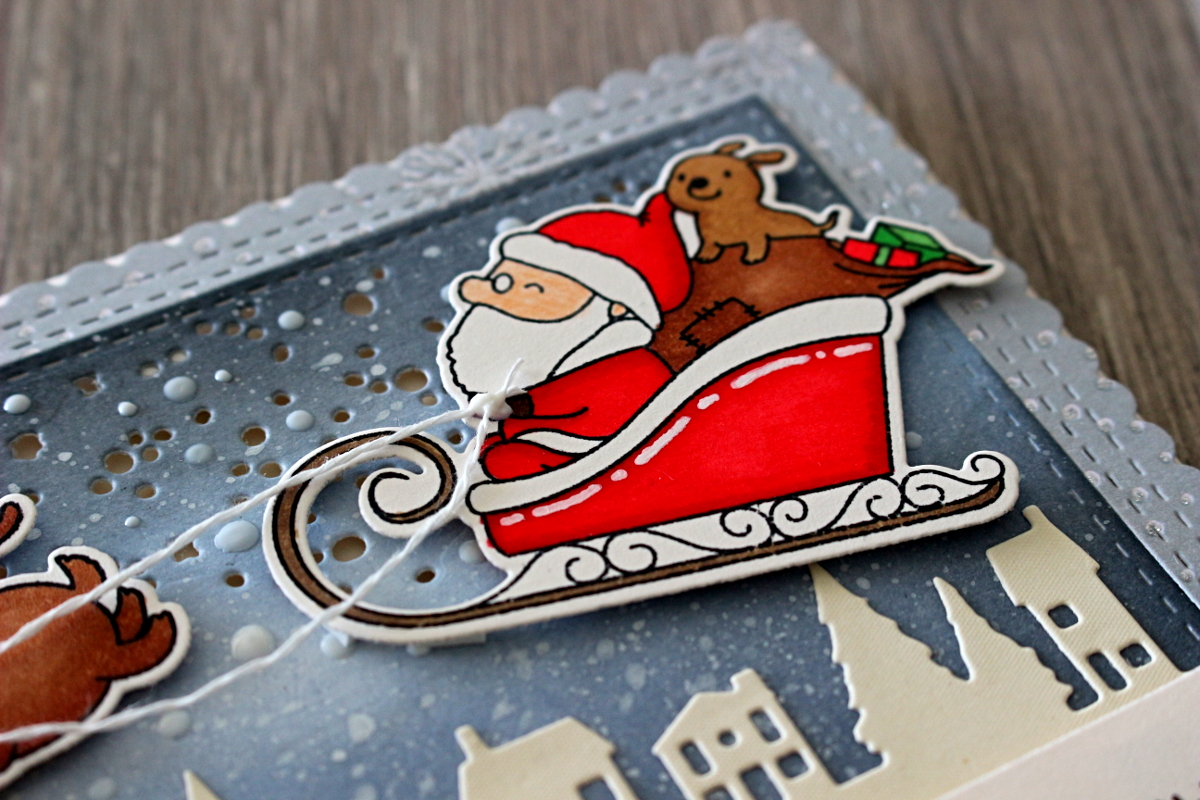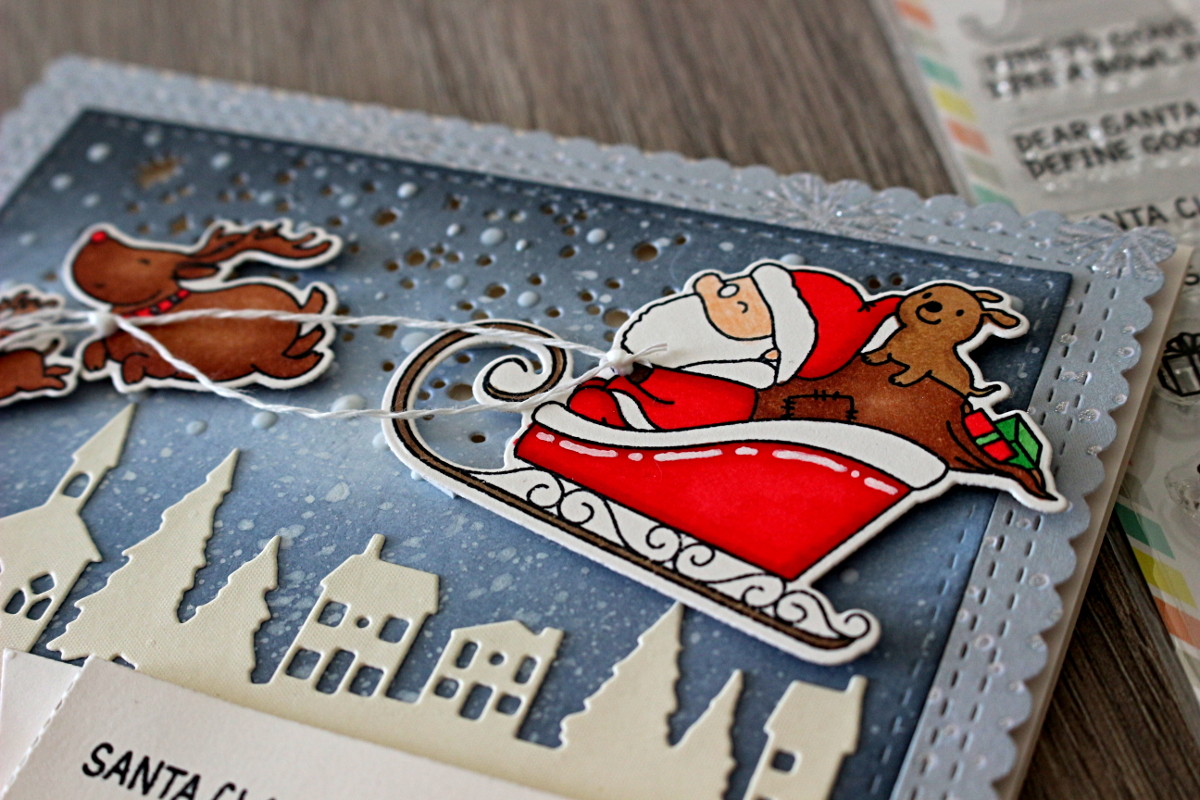 How To
It was really funny and at the same time hard to realize this card. I started cutting the rectangular shapes, the scalloped one first, and then using the sewn one inside the scalloped one. Thi was to create the external decoration made by a Christmas paperpad.
The sky is made using the memento oxide ink "Stormy sky" (I was patient while doing it because it required me some time, I wanted to be hundred percent satisfied). Then, using some water over an acrylic stamp block and the white memento ink, I used a brush to create the starry sky and then adding some white crystal drops to simulate a snowfall.
Then, as usual I stamped the various characters using the clear stamp of Mama elephant "Santa's sleigh": Santa Claus and his sleigh, the reindeers, the gifts and the milepost. I spent some time coloring them and then I cut all the pieces using the matching dies.
Later, I cut the Christmas village with the Sizzix's die "Landscape Border" on a cream paper.
The sentence "Santa Claus is coming to town" is printed on a white paper and then cut with the bold banner die. It is used to create a pop up effect of the banner.
Once I finished having everything ready, it remains for me to glue everything. The background with the Christmas paperpad is put with the foam tape in popup, instead the sky is simply glued on the white card. The village is glued on top of the sky, then the banner over the village using the foam tape. The gifts are in popup while the milepost is simply glued. Then, at the end, Santa Claus and the reindeers are in popup. I used a white string to create the reins of Santa Claus.
I completed the postcard with a round stamp on the back saying "Handmade with ".